The Lib Tech Lost Puddle Fish Surfboard takes the outline of the best selling groveler, puddle jumper, and cranks up the speed with an inverted swallow, set inside a wide square tail, and a speed bleeding, afterburner, release channel exiting the tail.
The Lib Tech Lost Puddle Fish Surfboard allows full force, full speed, small wave, rail surfing with confidence and none of the cumbersome drift usually associated with "alternative" fish shapes.
Features
Beginning with the Puddle Jumper, and retaining its performance defining rocker and spiral vee under the rear foot, I pushed the wide point slightly forward, widened and squared off the tail block and really pulled in/straightened out the hip area of the outline, between the feet. These changes, combined with reducing the depth of the concave through the center of the board (which straightens and flattens the rail rocker under the front foot) all work together to build a more linear speed down the line, across flats and though slop. The inverted swallow, and angular corners of the square tail, reduces surface area behind the rear foot, adding bite and control without sacrificing the extreme drive generated by the straight tail outline and rail rocker. The entire design is wrapped up with the (optional) speed bleeding, "afterburner",  release channel, which sits inside the double concave vee panels and is toed in slightly, to run parallel with the rear quad fin placement. The channel then exits  at the apex of the inverted swallow. My goal was to design a board that matches the flat line speed of any alternative "fish" design, without the cumbersome, drifty feeling most of these boards possess, and allow full force, small wave, rail surfing with confidence.
Technology
TECHNOLOGICALLY TOUGHER - ENVIRONMENTALLY NICER!
Lib Tech is dedicated to board riding and hands on high tech board building. We have spent a lifetime of surfing, shaping and working with alternative, high performance, environmentally friendly materials and constructions. Traditional surfboard construction has always felt too fragile and the build process is toxic and unhealthy for the planet and craftspeople. We know there had to be a way...

Mike Olson and our experiMENTAL division applied our 35+ years of hands on board building experience to the task of building a better surfboard. In the process we completely rewrote the book on surfboard construction. Every component we use in our ecoIMPACTO surf construction is completely new to the surf industry. Our Thermo fusion process radically minimizes resin exposure and sanding while creating amazingly durable, environmentally friendly, high performance surf structures that will free your mind and lift your surfing to new heights.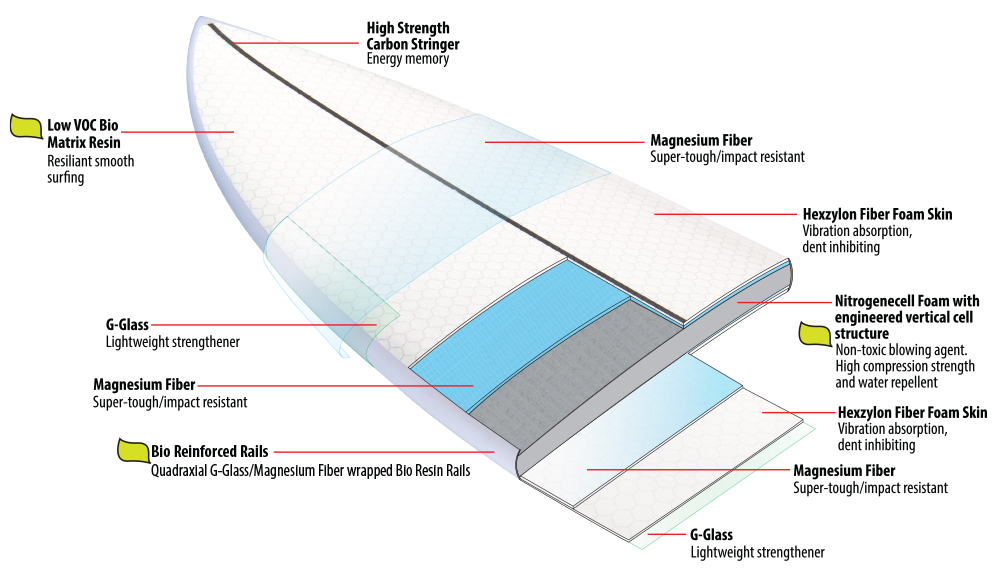 THE ECOIMPACTO RIDE "HIGH PERFORMANCE LIFE EXTENSION"
A smooth responsive and high performance ride with the feel of a crispy new polyester that lasts and lasts.

LESS WORRY... MORE FUN
THE ULTIMATE TRAVEL BOARD
WONT ABSORB WATER IF YOU DO GET A DING
REPAIRS WITH EPOXY

ECO FRIENDLY MATERIALS AND PROCESS
ELIMINATION OF INDUSTRY-STANDARD RESIN EXPOSURE PROCEDURES
ELIMINATION OF INDUSTRY-STANDARD SANDING PROCEDURES
ELIMINATION OF INDUSTRY-STANDARD PAINT BRUSHES, TAPE, AND SOLVENTS
LOW VOC PLANT BASED BIO RESIN
RECYCLED FOAM OFFCUTS
LONG LASTING CONSTRUCTION
Specifications
| Length | Width | Thickness | Volume |
| --- | --- | --- | --- |
| 5'4" | 20.25" | 2.32" | 28.5 cl |
| 5'6" | 20.75" | 2.4" | 31.0 cl |
| 5'8" | 21.25" | 2.53" | 34.5 cl |
| 5'10" | 21.75" | 2.63" | 38.0 cl |
| 6'0" | 22.25" | 2.75" | 41.75 cl |
| 6'2" | 22.55" | 2.8" | 44.25 cl |
Video